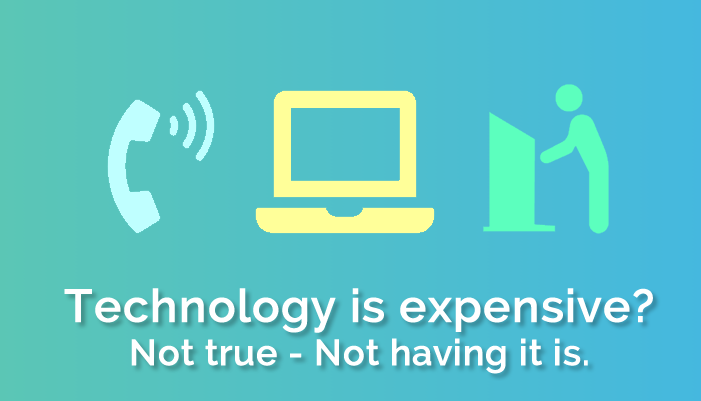 Technology is expensive?
Not true – Not having it is.

By Peter Demaio
AutoMed Systems has developed THE complete solution addressing needs of patients, staff and practice, decreasing costs, improving patient service and increasing profits.
So why do we still hear that technology is expensive?
Let's take a practice with 3-4 FTE practitioners that mix bills;
The average patients will be 150-200 per day
The average number of phone calls will be 300
The time to make an appointment can be anything from 2-10 mins
The number of visits to the desk would be between 300 and 400, including returns for post consult payments.
The average gap fees are $25 and the average no show rate is approximately 20 per week.
The average staff numbers are 4-5 receptionists with a 10 % bad debt rate.
How does AutoMed Systems address these areas?
In our practices up to 60% of patients make online appointments, this is 150-200 less phone calls saving on average 10 staff hours per day.
Our Caller ID integrates between your PABX and PMS, decreasing the time to make an appointment on the phone from 2-10 minutes to under 1 minute, saving up to a further 20 hours a day.
Our self arrival management system has a 55% uptake, decreasing staff times with another 10hrs whilst at the same time verifying and updating patient data, outstanding debs, giving expected waiting times and directing patients to the appropriate room.
Our fully integrated self payment system not only decreases revisits to the front desk by 80% and thereby decreasing staff hours by a further 20 hrs per day but it also allows for prepayment on expensive procedures, decreasing loss of income on no shows and non-payments.
Additional Measures
With the Automed patient appointment reminder system, no shows have been decreased by 90% leading to a possible extra 18 appointments available per week. Automating results notifications and recall reminders increases return visits and ensures proactive care for the patients.
The SMS's are provided at a low, fixed-cost fee which with the savings in credits alone can pay for the whole system. In addition to the cost-savings the messages are sent from 1 single number dedicated to your practice in line with RACGP guidelines.
Online upfront payments, repeat scripts and telehealth services will all ensure that you are providing the most comprehensive solution for your patients with accessible and convenient health care.
What are the benefits?
Up to 50 staffing hours PER DAY, equates to approximately $290,000 savings per year
An extra 18 appointments equates to $65,000 extra income per year with increased patient access
Decreasing liability because of poor recall systems leading to poor follow up of patients with potentially serious conditions, outdated and incorrect patient data and poor patient communication
Savings on messaging that is fixed cost rather than an expensive per credit pricing
The ability to inform patients effectively and securely leading to increased loyalty, patient engagement and potentially increased patient numbers.
These are not made up numbers but FACT.
If you want increased efficiency, improved patient service, increased profits at a FIXED low cost
Contact us on www.automedsystems.com.au for a 1-month free trial.