SELF SERVICE KIOSKS
A sophisticated all -in- one self-service system that supports patient check-ins, walk-ins, payments and bookings.
AutoMed's kiosks are quick and easy to use and perform all the regulatory checks whilst maintaining the patient's privacy. In addition the kiosk provides updated waiting times, displays in 8 languages and intelligently manages appointment book and waiting room allocations using doctor efficiency factors for walk-in clinics.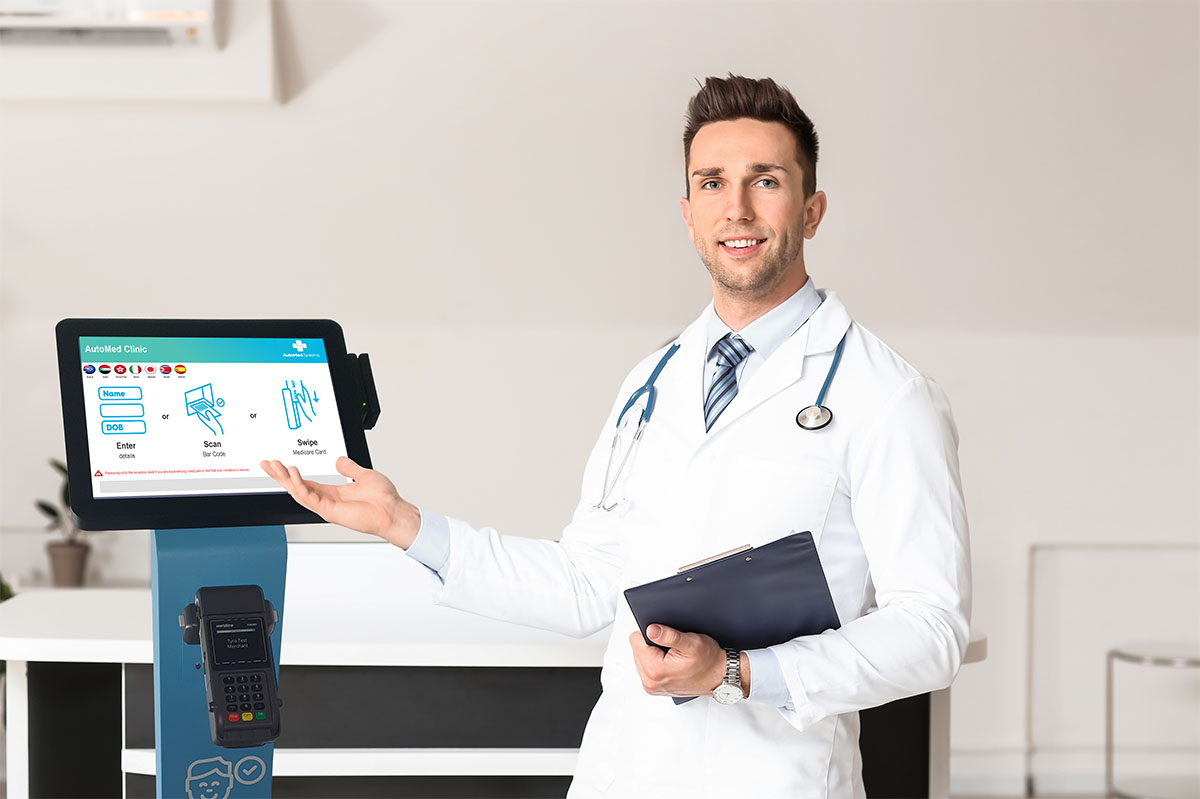 5-SECOND SELF-ARRIVAL. WITH DATA VERIFICATION & DECREASED BAD DEBTS
SERVICE FEATURES AND BENEFITS
Accommodate more patients with less staff and less per patient cost.
Select 8 languages (from 100) to display in.
Medicare swipe-in, QR code reader or manual data entry options.
Privacy film to protect patient privacy.
Caters for walk-in patients with 1st available and specific doctor options.
Late arrival and early check-in validations.
Direct patients to specific waiting areas.
Checks for outstanding debts and accepts payments if billing option activated.
Checks for expired Medicare / Pension / HCC cards.
Update demographics & next of kin details.
Optional configurations to allow Medicare patient check-ins only.
Future appointments with printed or SMS confirmations.
Optional facial recognition feature to eliminate fraudulent Medicare activity.
Post-consult integrated billing options with invoice creation, Medicare rebates via Tyro and Payment Receipts.
AutoMed offers a unique, intuitive check-in solution reducing front-desk visits by up to 65% whilst maintaining compliance and increasing data integrity.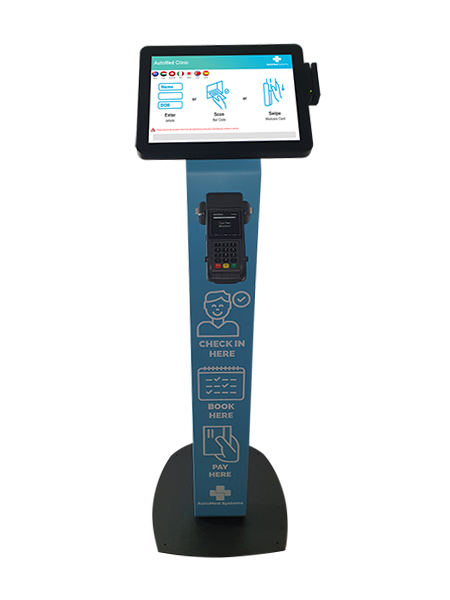 AutoMed's kiosks are quick and easy to use and perform all the regulatory checks whilst maintaining the patients privacy. The Medicare card reader allows patients to check in and verify their details in as little as 5 seconds without having their details broadcast in the waiting room. When used in conjunction with AutoMed SMS services, patients are reminded to use the kiosk for check-ins and to verify their details when booking and confirming appointments; these prompts greatly increase the uptake in patients.
PRICING
$120
/month
Medicare card swipe check-in

Optional Facial Recognition Check-In

Optional integrated billing
* Based on a Medium Sized Practice