MOBILE APP – AMS CONNECT
A convenient and intuitive mobile app for your existing patients from which they can make and manage appointments for their family, request repeat scripts & referrals and seamlessly connect to video consults.
MORE THAN 45000 USERS MANAGE THEIR APPOINTMENTS VIA AMS CONNECT
SERVICE FEATURES AND BENEFITS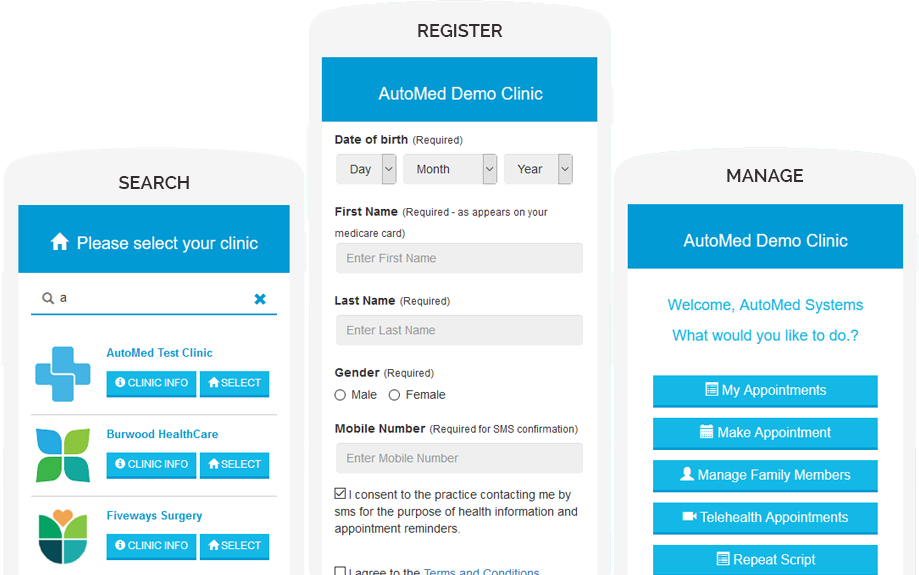 1-click connection to GPs for Video consults.
Remote appointment check-in feature.
1st available, last doctor seen and specific doctor options.
Complex appointment bookings automatically booking additional resources in the correct sequence in relation to the doctor.
Customisable logos, banners and alerts.
Customisable pop-ups and pre-screening questions per appointment type.
Advertise all your service types with specific and accurate appointment choices.
No 3rd party account registration, no duplicate records, no external advertising to patients and no promotion of other practices.
Automatically process pre-payments for high value or privately billed consults reducing no-shows and manual processing.
Make, view and manage appointments for additional family members & View past text messages.
Optional access to request Repeat Scripts & Referrals.
Automatically process post consult payments for Telehealth appointments.
Patients downloading the mobile app register as an existing patient to your clinic only, and remain logged in to your practice each time the app is opened. At no time whilst they are logged in to your practice, will any other practices be visible to them. All AutoMed features aim for continuity of care and the practice remaining the full custodians of their patients.
AutoMed uses text messaging as the primary source of communication from your practice as it does not require the patient to have mobile data and to be logged into the app as a specific patient. Patients that do use the mobile app however can view all messages generated by Automed in the past 3 months.
PRICING
Complex Resource Booking Features

Unlimited Appointment Types

Configurable pre-screening questions per appointment type

Option to include automatic pre and post payments
Optional Payments
  35c/processed transaction
Optional Repeat Scripts & Referrals
35c/approved request
* Based on a Medium Sized Practice