CALLER ID
AutoMed's revolutionary Caller ID presents the patient data associated with an incoming phone number to your telephony system, allowing reception staff to quickly and accurately identify the calling patient along with a visual display of their demographic detail, patient notes, recalls due and last doctor seen.
The patient's details can either be copied to the appointment book with a clipboard function, greatly reducing the likelihood of administrative errors, or an appointment can be made directly and effortlessly from a pop-up interface which displays first available slots per practitioner and appointment type.
YOU'LL WONDER WHY YOU WERE EVER WITHOUT IT
SERVICE FEATURES AND BENEFITS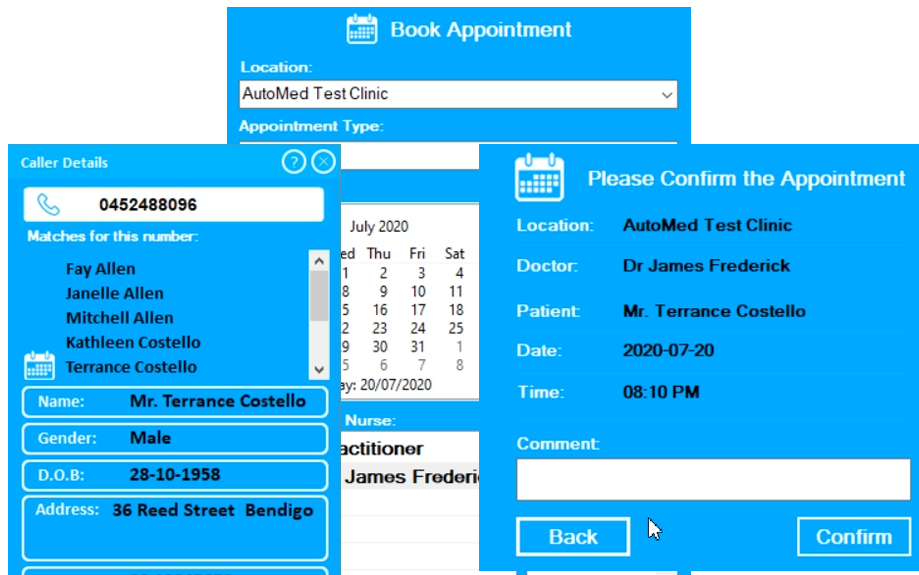 Identifies patients immediately with real time integration between your phone system and your practice management software.
Displays last doctor seen and demographic identifiers.
Displays appointment notes and/or recalls due.
Appointment attendance confirmation and cancel feature.
Book directly via the booking interface which includes all AutoMed's advanced booking features
Automatically process pre-payments for high value or privately billed consults reducing no-shows and manual processing.
Automatically process post consult payments for Telehealth appointments.
Optional automatic Appointment Confirmation SMS specific to appointment type & single messaging feature.
Integrated with AutoMed's Vaccine Management system.
AutoMed looks at each phone system individually and our dedicated engineering team will work closely with you for a bespoke solution. In the event that your phone system is not compatible for integration due to outdated technology or excessive 3rd party licensing fees, we will offer you a non-integrated version.