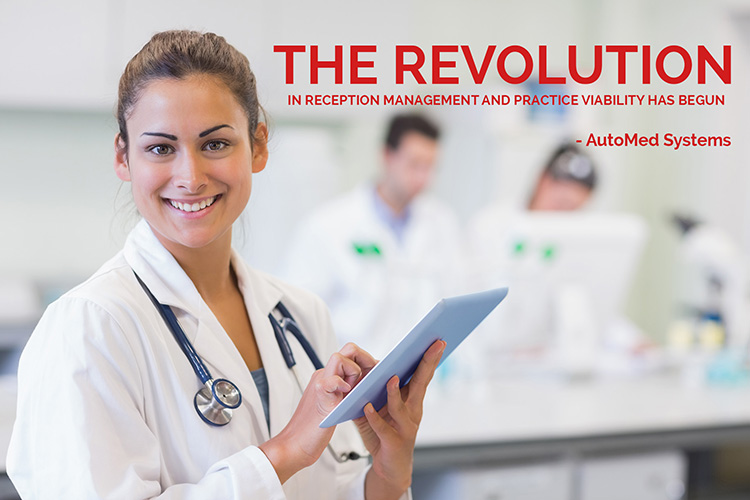 The Revolution in reception management and practice viability has begun

By Peter Demaio
Practice management systems arrived in the 80s and since then there has not been an integrated comprehensive solution to address the patient engagement experience, staff stress and frustration in complex and repetitive administration tasks and the increasing pressure on clinics to decrease costs in tandem with frozen or decreasing income.
All that is about to change.
AutoMed Systems is the only authorised, integrated and tested solution, integrated with PracSoft for patient engagement. We are also fully integrated and tested with Best Practice, Medicare, Surgical Partners, Telstra, Tyro and Ingenico. We are approved by AGPAL and comply with RACGP accreditation guidelines.
AutoMed Systems takes the patient from appointments online, on the phone and via the mobile app, allowing for every variation of appointment type, linking to nurse attendance or allied health. It arrives, validates and updates patient demographics ensuring decreased stress at the front desk, decreased corrupt data and a more efficient arrival experience for patients. It integrates with a full suite of SMS and MMS communication tools, including reminders, recalls and call-backs to encourage patient loyalty and ultimately leads to practice building.
AutoMed Systems is the only solution that has full Medicare, Tyro and Ingenico integration, allowing us to process payments and claims across the board. This leads to a halving of patient attendances to the front desk for payments, resulting in decreased stress at the desk, decreased cost for the practice and decreased bad debts, all via an intuitive kiosk. Further it allows patients to make follow up appointments online, on the mobile app or via the kiosk, encouraging reviews by the last treating doctor with reminders and appropriate follow up.
In short AutoMed Systems takes the patient from the beginning to the end of their engagement with your practice, respectfully, seamlessly and efficiently leading to improved patient experience, decreased staff stress and decreased running costs to you, the practice owner /manager in an environment of a rebate freeze.
We are often asked, "Do we need to take on the full suite of services? ". The answer is no – you can now download one or all of our 10 modules online by simply visiting our website, www.automedsystems.com.au and selecting what you want, when you want it, with no lock in contract and no high power marketing pressure.
For further information please visit us at www.automedsystems.com.au