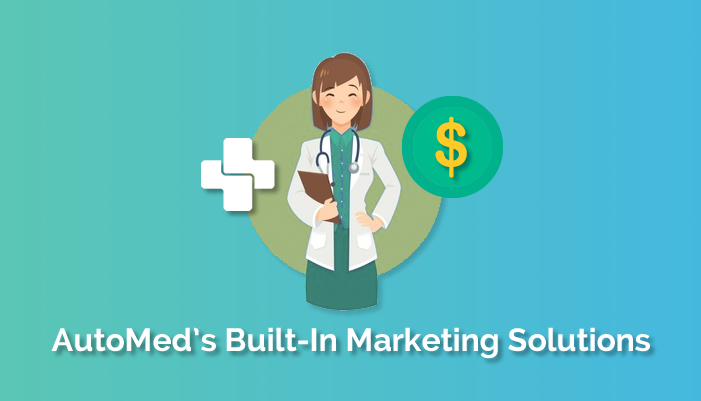 AutoMed's Built-In Marketing Solutions

By Peter Demaio
The marketing gurus tell us that growth can be divided into 4 areas;
New services to new clients (very expensive, time consuming and requires outsourcing),
Old services to new patients (again very time consuming and requires outsourcing),
Old services to current patients (we do this all the time) and
New services to current patients (a very cost-effective process that does not require a lot of new resources.)
So how can we use the technology that exists within the practice to inform patients of new services leading to increased income and decreased costs?
AutoMed has been designed within a large General Practice in Australia. It is a holistic solution covering all aspects of patient engagement including the Mobile App and Online Appointments, Caller Identification, Clinic Check-In, Waiting Room Management, Billing, automated Recall and Results management, and Bulk MMS and Emails. Each service is designed to promote the next, creating a full circle of engagement.
The following features within AutoMed can be used to promote your clinic and its services:
Advertising scroll on Kiosk
Notification banner on Online Appointments
Confirmation MMS / email when appt is booked Online via AutoMed
Confirmation MMS when appt is booked via Caller ID
Appointment Reminder MMS with messages to use the kiosk to arrive and check their details
Results notification MMS with a message to make appointments online.
Recall MMS reminding patients of upcoming recalls
Bulk MMS to reach your entire or targeted base with any message of your choosing
Bulk Email with information regarding practice hours, services, new Doctors etc
Concierge marketing questionnaire informing future marketing strategies
Automated welcome MMS for all new patients allowing practice information to be sent.
As well as promoting current services via multiple processes these services can significantly decreases costs and by improving patient experience, increase patient loyalty.
How do you use this?
Firstly, AutoMed recommends that clinics create all their appointment types, including allied health services in AutoMed and group them by Service Type eg skin checks, laser treatments, different immunisation appointments for example children, travel etc. each with their own specific information and instructions. Information will then be disseminated automatically before confirming the appointment, after confirming the appointment and in the appointment reminder, for example not to wear makeup before a skin check or remind parents to administer Panadol 30 minutes before a childhood immunisation.  Any relevant out of pocket fees can also be indicated at any step.
AutoMed is the only system which allows you to fully advertise ALL the appointment types and services which your clinic provides via the Mobile App and Online Appointments and allows for expanded information to patients via hyperlinks. A new patient may receive an electronic practice brochure, or a skin review patient may receive a hyperlink to the anti-cancer website.
Making patients aware of ALL services within the clinic and linking the services to appropriate health care providers will increase service utilisation and increase patient loyalty leading to increased profits and better patient all round patient care.
All messages via AutoMed are submitted as a full 2-way MMS. We encourage clinics to use more than 400 characters when creating their templates rather than the standard 160 character SMS's, allowing patients to be better informed of services or current campaigns and providing a more professional message in general.
AutoMed provides a fully integrated and comprehensive Recall and Results system, thus providing automated communication not only for the clinical reminder recalls but also results. These messages can typically also include additional health related information for your patients or inform patient about additional services within the clinic.
AutoMed also provides a Bulk MMS feature whereby you can load bulk campaigns for your active patients. Various filters exist to define a targeted audience around Gender/Age/HCC etc. A similar feature is available for bulk email which can be done as an interactive html message.
These messages are all delivered via a fixed cost SIM card and are thus delivered from the same mobile number dedicated to your clinic ensuring that all patient replies are delivered back to the clinic. Patients also have the peace of mind that their contact details are not being shared between various messaging gateways.
www.BookMyDoc.com.au – Book Your Doctor Online is our most recent addition and is a free service AutoMed provides to all its customers. This free website lists all AutoMed customers and allows patients to book instantly or to register as a new patient with your clinic – there are no new patient registration fees and no third-party registration of patient data.